Free Remote Serial Ports Overview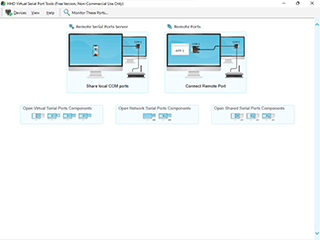 Free Remote Serial Ports is a COM ports redirecting freeware utility which allows you to share any serial port and access it remotely using LAN or Internet connection.
Virtual copy of a shared remote serial port is created on a local machine and all serial port features are replicated on the local copy. All data exchanged between the remote computer and device is transferred to the local virtual port. No matter what serial device is connected to the remote computer, you may treat it as a real serial hardware device connected to your local physical port.
Deploy Remote Serial Ports Server using simple copy/paste to the remote computer to share com port over network. Then connect it using Remote Serial Ports Client running on your PC. You do not need to care what network protocols (TCP/IP, UDP/IP, etc.), Ethernet standards or the type of underlying connection (LAN, WAN or Internet) are used for serial port redirection. In most cases, no specific network configuration, like IP address or network name needs to be accounted for.
No administrative privileges, no additional network configuration is required, just copy/paste and use it. Created local virtual serial port will behave exactly as shared serial port on the remote side, making your hardware serial device connected to remote computer available for access from your local workstation exactly the same way as it was actually connected to the existing local serial port.
Free Remote Serial Ports Features
No Kernel-Mode Components
Supports Copy & Paste Deployment
No Addition Network Setup is Required
Server Auto-Discovery
GUI and Command-line Configuration Utilities
May run as Windows Service
Fine-grained Access Control
Hardware Serial Ports Emulation
API and Scripting support
The following com port flow control emulations are supported:
No flow control
Software flow control (XON/XOFF flow control)
Hardware flow control (Rs 232 RTS/CTS flow control, DTS/DSR flow control)
Custom flow control
The following serial port baud rates are fully emulated:
110 bit/s, 300, 600, 1200, 2400, 4800, 9600, 14400, 19200, 38400, 57600, 115200, 128000 and 256000 bits per second as well as any custom non-standard bit rates.
FRSP provides you with easy to use GUI and console application control utilities.
Supported Serial Ports
Our RSP allows you to redirect custom PnP serial ports and I/O ports interfaced by 16550 UART: COM1, COM2, COM3, COM4 ... COMN serial interface, correctly registered and visible in Windows Device Manager under standard Ports (COM & LPT) device class. Legacy physical ports, Plug & Play COM ports, Serial ports created by PnP USB to Serial converters, virtual serial ports are fully supported.
Supported Serial Devices
Our remote serial ports technology may be successfully used with following RS-232, RS-422, RS-485 physical devices, hardware equipment and peripherals:
Dial-up modems, industrial equipment and automation systems, PLCs, VFDs, servo drives, CNC RS-232 controllers, terminals, printers, RS-232, RS-422 and RS-485 test instruments, serial device servers, NPort servers, multiport serial boards, laboratory automation equipment, scientific instruments, serial to fiber converters, RS-232 to RS-422/485 converters.
Using your Network and our Free Remote COM Ports software application you may easily connect to the following remote devices:
Network configuration and management equipment:

routers, switches, multiplexers, hubs, firewalls, load balancers, console ports, wireless LAN equipment;

Diagnostic, controlling and measuring tools:

digital multimeters (multitesters), oscilloscopes, manometers, sensors;

Telecommunication equipment:

Fax-Modems, mini-ATS, PBX, Cell Phones, GSM mobile phones, GPS, satellite phones, low-speed satellite modems and other satellite based transceiver devices.

Shop fitting and retail equipment:

EPOS and POS terminals, bar code/barcode scanners, card readers, weighing systems, door entry and HVAC systems, bar code readers.

Consumer electronics:

MIDI-serial devices, Digital Cams, entertaining equipment, simulators.
Any remotely connected serial devices will be accessible on local computer, including modems, GPS/trackers, barcode scanners, sensors, PBX, laboratory equipment and much more.
Supported Usage Scenarios
FRSP may be applicable as some kind of serial port redirector / COM port redirector which forwards remote serial devices connected by null-modem cable with DB-25 or DE-9 connectors to the local virtual copy of serial port. The following serial line options are fully emulated: Transmitted Data TxD, Received Data RxD, Data Terminal Ready DTR, Carrier Detect DCD, Data Set Ready DSR, Ring Indicator RI, Request To Send RTS, Clear To Send CTS Serial (Modem) control lines. All incoming connections, data and signals are forwarded to the local port copy.
Together with virtual com ports tool our free remote serial ports program may be used as effective network serial port Kit which helps you in solving most relevant tasks in serial development, testing serial device failures, sniffing serial port dataflow, creating data transferring protocols and debugging RS232/RS422/RS485 serial communication programs.
Free Remote Serial Ports OS support
Free Remote Serial Ports supports Windows desktop and server platforms starting from Windows Vista (x86 and x64), including Windows 11 and Windows 10 32-bit/64-bit and Arm-64 operating systems.
Free Remote Serial Ports system requirements
CPU: Dual-core x86, x64 or Arm64 compatible processor, RAM: 1 GB of memory, Storage 15 MB of free HDD or SSD space.
Download Free Remote Serial Ports Server & Client parts as single ZIP package and start your communication to the remote serial devices in just few seconds!
Free Remote Serial Port Advantages
Reliable.

It uses only user mode API calls.

Handy.

It supports remote com ports autodiscovery.

Compatible.

It works with most serial port applications.

Transparent.

It's compatible with most serial port sniffers.

FREE.

It costs nothing!

Without the need of the actual hardware, we can use this user friendly virtual serial port application to connect with virtual com ports and sniff the data communication. The tool is really robust and helpful.
Praveen K. Mamilla
Medtronic
Lead